Divider Boxes - Grid Boxes and Containers
Multi-purpose stack-only Divider Boxes are ideal for use in commercial, industrial, electronics and healthcare markets for storage, assembly, fabrication and distribution applications. Containers are available with a variety of covers, dividers, collars and options.
Divider Box Containers - Grid Boxes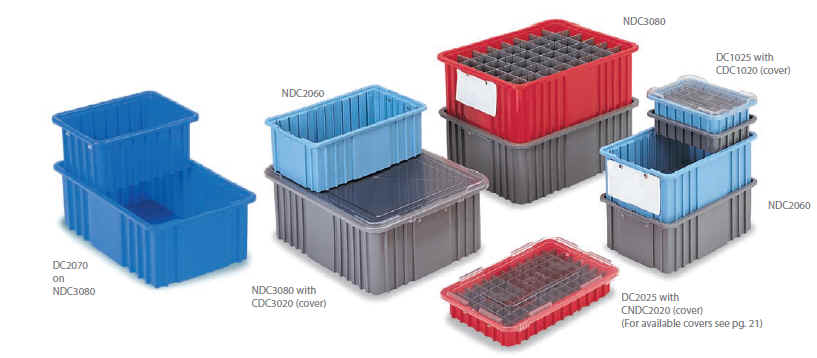 LEWISBins+ Divider Box containers, with easy-to-add dividers, can be customized for any product size and quantity to maximize tote capacity. All containers can be divided into compartments on 1.25" centers. Divider Boxes are also stocked in ESD-Safe materials.





Benefits

Strong stacking ridge and innovative ribbed walls ensure high performance.

Choose from industry standard containers and sizes.

Multiple identification options for added flexibility and efficiency.

Load capacity of 40 lbs. per container.

Choose from four optional cover styles for product protection.

Compatible with many kinds of racking, shelving and material handling equipment.

2 cardholder snaps included on all DC and NCD series boxes. Snaps for DT series are available upon request.

Available in ESD-Safe Material!

Colors Available: Light Blue, Gray, Red and Dark Blue

Model
Outside Dimension
Inside Dimension
Height
Wt
Carton Qty
Price each $
Top
Bottom
Top
Bottom
DC1025
10.8 x 8.3
9.8 x 7.3
9.2 x 6.6
9.1 x 6.5
2.5
0.5
24
4.56
DC1035
10.8 x 8.3
9.8 x 7.3
9.2 x 6.6
9.2 x 6.4
3.5
0.6
16
4.69
DC1050
10.8 x 8.3
9.8 x 7.3
9.3 x 6.6
9.1 x 6.4
5.0
0.8
16
4.73
DC2025
16.5 x 10.9
15.5 x 9.9
14.8 x 9.2
14.7 x 9.1
2.5
0.9
12
5.79
NDC2035
16.5 x 10.9
15.5 x 9.9
14.8 x 9.3
14.8 x 9.2
3.5
1.1
8
6.35
NDC2050
16.5 x 10.9
15.5 x 9.9
14.9 x 9.3
14.8 x 9.3
5.0
1.4
8
7.49
NDC2060
16.5 x 10.9
15.5 x 9.9
14.9 x 9.4
14.9 x 9.3
6.0
1.5
8
7.97
DC2070
16.5 x 10.9
15.5 x 9.9
15.0 x 9.3
14.8 x 9.3
7.0
1.7
6
9.71
NDC2080
16.5 x 10.9
15.5 x 9.9
15.1 x 9.3
14.8 x 9.2
8.0
2.0
6
9.95
DC3050
22.4 x 17.4
20.9 x 15.9
20.3 x 15.3
20.1 x 15.1
5.0
2.6
4
11.32
NDC3060
22.4 x 17.4
20.9 x 15.9
20.3 x 15.3
20.1 x 15.1
6.0
2.5
4
11.53
NDC3080
22.4 x 17.4
20.9 x 15.9
20.3 x 15.3
20.1 x 15.1
8.0
3.3
4
15.55
NDC3120
22.4 x 17.4
20.9 x 15.9
20.5 x 15.5
20.1 x 15.1
12.0
3.0
3
20.31
For Dividers and Covers - Go Here


Back to Home Page
Last updated 8/13/15
Copyright Equipment and Supply 2013