Stack and Nest Totes and Containers
Create greater organization and flexibility in your storage system with stack and nest containers and totes. Totes stack neatly out of the way when not in use and stack one on top of the other for product separation and organization. Stackable Plastic containers are for larger items that require greater storage space.
Polylewton - Stack and Nest Containers

These efficient, lightweight containers are manufactured from high-density polyethylene.
Grey and blue are FDA-approved for direct food contact. LEWISBins Polylewton containers are ideally
designed for use in your general manufacturing, food processing and distribution applications. These rugged totes are resistant to the damaging effects of oil, most chemicals, solvents, water and steam for an extended service life in your facility.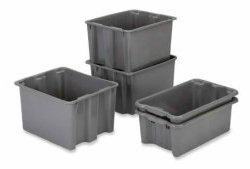 Cover and Dollies Below


Features:

Resistant to rust, corrosion and temperatures ranging from 0 degrees F to 120 degrees F.

Easily cleanable and ideal for handling unpackaged product. No sharp edges, burrs or splinters.

Maximum load capacity of 70 lbs. per tote, bottom container supports 300 lbs. stacked.

Textured bottom on selected containers ensures compatibility with conveying equipment.

Compatible with many racking and shelving styles.
Polylewton Stack-N-Nest Containers Stocked Color Red, Blue, Grey

Model

Outside Top Length

Outside Top Width

Outside Bottom Length

Outside Bottom Width

Inside Top Length

Inside Top Width

Inside Bottom Length

Inside Bottom Width

Height

Weight (lbs)

Carton Quantity

Price each

Compatible Cover (s)

SN2012-6

20.1

13

18.5

11.5

18.1

12

17.3

11.3

6.2

2.1

5

9.80

CSN2012-1

SN2013-12

19.4

12.9

17.3

11.5

15.8

11.8

14.8

10.6

12.1

3.8

5

15.45

CSN2013-1

SN2117-12

21

17

18.8

10.9

17.4

15.8

17.4

14.8

12

5

5

22.00

CSN2117-1

SN2414-8

24

14.1

21.8

15

19.5

12.3

18.5

11.3

7.9

3.4

5

13.83

CSN2414-1

SN2420-13

24

20

21.6

11.5

21.5

18.8

20.4

17.4

13

6.1

5

22.45

CSN2420-1

SN2618-10

26.1

18.7

24

17.7

23.4

17.4

22.3

15.7

10.5

5.4

5

22.32

CSN2618-1

SN2818-10

28.4

18.7

26

15.9

25.6

17.4

24.6

15.7

10.5

5.8

5

23.20

SN3022-6

29.6

22.4

28.3

15.9

27.6

21.4

26.1

20.5

6.1

4.8

5

21.76

SN3024-15

30.1

24

27

21

27.6

22.5

25.8

20.8

15.1

11

5

45.45
Container Covers

Durable matching Covers are available for selected containers to protect product from moisture, impact and contaminants. The CSN2012-1 is produced in polyethylene. All other covers are manufactured in polypropylene material.

Covers Stocked Color Red, Blue, Grey
Model
Inside Length
Inside Width
Height
Weight (lbs)
Carton Quantity
Price
each
Compatible Container(s)
Cover Style
CSN2012-1
20.4
13.3
1.1
1.2
5
5.60

SN2012-6

HOOK
CSN2013-1
20.3
13.2
1.3
1
5
5.33
SN2013-12
HOOK
CSN2117-1
21.3
17.3
1.8
1.4
5
7.47
SN2117-12
HOOK
CSN2414-1
24.3
14.3
1.1
1.1
5
5.87
SN2414-8
DROP
CSN2420-1
24.3
20.3
1.5
2.1
5
10.79
SN2420-13
HOOK
CSN2618-1
27
19.1
1.3
1.9
10
10.13
SN2618-10
DROP
Polylewton Stack-N-Nest Dollies

Heavy-duty dollies, with 560 lb. capacity, are available to move containers quickly, easily and safely. The dollies are chrome-painted and equipped with two swivel and two fixed 3" casters.

Call for availability - Available in gray on a made to order basis!

Model
Inside Length
Inside Width
Height
Weight (lbs)
Price each
Compatible Container(s)
DSN2117-SST
19.5
15.1
5
11.2
Call for pricing
SN2117-12
DSN2414-SST
21.9
12
5
10.7
SN2414-8
DSN2420-SST
22.5
18.3
5
12.3
SN2420-13
DSN2618-SST
24.4
16.5
5
12.3
SN2618-10
DSN3022-SST
28.3
21.3
5
13.9
SN3022-6

Back to Home Page
Last updated 8/13/15
Copyright Equipment and Supply 2013