Stackable Plastic Bins
Hopper front with curved design enables convenient part retrieval. Wide stacking ridge enables stacking to save space. Optional dividers increase versatility. Large front label slot allows bar code or ID card. LEWISBins, the cornerstone of the LEWISBins family of products, are available in 7 industry standard sizes. These high-quality polypropylene bins are competitively priced to bring value and efficiency.
LewisBins - Open Front Hopper Bins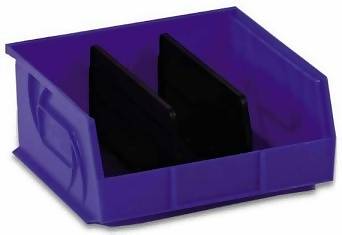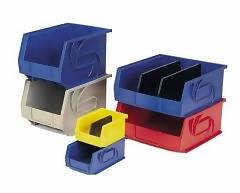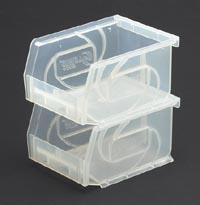 These high-performance bins are used for secure storage of small parts in industrial assembly operations, healthcare, stockroom, warehouse, and hardware merchandising applications.
Stackable Bins - For small parts storage on stationary shelves, work benches, louvered panels or stacking
Stock Colors: Red, Blue, Yellow, Stone and Green.
Clear Bins now Offered!!

Model
Length
Width
Height
Weight (lbs)
Carton
Quantity
Price
Each Bin
Clear
Bins
Price ea
Dividers
6 per pkg
Price per
Pkg
PB54-3
5 3/8"
4 1/8"
3"
.2
24
.84
1.15
DPB5-3
6.42
PB74-3
7 3/8"
4 1/8"
3"
.2
24
1.39
1.67
DPB7-3
4.14
PB104-4
10 7/8"
4 1/8"
4"
.5
12
2.53
3.15
DPB10-4
5.10
PB105-5
10 7/8"
5 1/2"
5"
.6
12
3.55
4.51
DPB10-5
6.06
PB108-7
10 3/4"
8 1/4"
7"
1.0
6
6.11
7.36
DPB10-7
7.68
PB1011-5
10 7/8"
11"
5"
1.0
6
5.67
6.99
DPB10-5
6.06
PB1405-5
14 3/4"
5 1/2"
5"
1.0
12
4.83
7.20
DPB14-5
8.82
PB148-7
14 3/4"
8 1/4"
7"
1.5
12
7.39
8.87
DPB14-7
9.42
PB1416-7
14 3/4"
16 1/2"
7"
2.4
6
10.45
14.48
DPB14-7
9.42
New Larger Sizes
PB1808-9
18"
8 1/4"
9"
2.1
6
12.69
16.65
DPB18-9
19.86
PB1811-10
18"
11"
10"
2.4
4
16.41
20.39
DPB18-10
21.42
PB1816-11
18"
16 1/2"
11"
3.2
3
19.77
23.17
DPB18-10
21.42

Back to Home Page
Last updated 8/13/15
Copyright Equipment and Supply 2013