Storage Containers - Distribution Containers
The FliPak family offers multiple container sizes with attached hinged covers that prevent expensive loss of product .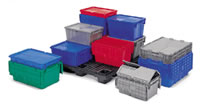 FliPaks Adds Efficiency and Versatility
These plastic containers stack when closed or nest when open to provide the most efficient use of available space on the manufacturing floor, in the warehouse, inside a truck trailer or in the back room of your retail outlet. Returnable and reusable for over 250 trips, FliPak containers provide an excellent return on investment . Markets include health and beauty aides, pharmaceuticals, general merchandise, soft goods, fasteners ,jewelry, office products, tapes and CD's, automotive parts , tobacco product and packaged grocery items.
Industry Applications:
Industrial, Confection, Electronics, Retail Merchandising, Pharmaceutical, Food Service, Healthcare


The New Generation FliPak containers, available in several popular footprints, add innovation with an optional plastic hinge element, automation compatibility, protected RF chip area, interior label area, drain holes in handles and improved
pocket handles.


Features:

1/4" or 3/8" diameter reinforced security holes are compatible with a variety of tote closures, from ties to padlocks. Traction-ActionTM material available for improved impact resistance and conveyability. Heavily reinforced hinge elements reduce breakage and cracking. Pebble-grain bottom surface provides excellent conveyor traction. Visible area above nest stops for easy reading of sequential number when nested or stacked. Quick - release label area on attached hinged cover and ends for easy reading and quick label exchange. Cover recessed within the perimeter of container to protect against c over breakage while conveyed or shipped.
FliPak® Containers

Available in Grey, Blue, Red, and Clear

Model
Outside Top
Outside Bottom
Inside Top
Inside Bottom
Hgt
Wgt
(lbs)

Price Each

Stocked Color
Clear
L
W
L
W
L
W
L
W
FP03
11.8
9.8
9.3
7.0
10.1
7.8
8.7
6.4
7.7
2.1
9.79
Grey/Blue
12.77
FP06
15.2
10.9
12.8
7.8
13.8
8.9
12.2
7.3
9.7
3.0
11.15
Grey/Blue
14.83
FP075
19.7
11.8
16.9
9.3
17.7
10.1
16.2
8.6
7.3
3.4
9.84
Grey/Blue
15.81
FP143
21.9
15.2
19.1
13.3
21.1
14.4
18.5
12.8
9.3
5.0
11.13
Grey/Blue
15.93
FP151
22.3
13.0
19.1
10.9
20.1
11.4
18.9
10.1
12.8
6.2
12.80
Grey/Blue
---
FP182
21.8
15.2
18.6
12.9
19.8
14
18.1
12.3
12.9
6.5
13.05
Grey/Blue
18.37
FP243
26.9
17.1
24.3
14.6
25.3
15.5
23.4
13.9
12.1
8.2
14.61
Grey/Blue
22.11
FP261
23.9
19.6
21.1
17.1
22.2
18.2
20.6
16.5
12.6
8.4
20.23
Grey/Blue
27.19
FP403
27.9
20.6
25.8
18.7
26.0
19.0
25.0
18.0
15.6
12.7
24.20
Grey/Blue
---
Copyright Equipment and Supply 2013