Orbis StakPak Plus Container System
Choose from over 20 straigh wall modular plastic containers with advanced features to optimize material handling systems in many industries.
The straight-wall design offers greater cube utilization, delivering more product per trip to its destination.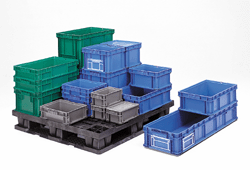 These plastic injection-molded containers are manufactured and designed with state-of-the art technology for superior
impact resistance. StakPak containers are automation friendly and have ergonomic handles for easy lifting and handling.
The StakPak container system is designed for just-in-time applications where the same containers are
used for shipping, storage and work-in-process.
Improved ergonomic pocket handle
on two sides for easy lifting

Fingertip handles on adjacent sides (7" and taller) Lifting slots compatible with robotic lift and manual lift assist equipment
Drain holes in bumper and handles for washing
Smooth, straight interior walls offer maximum cube utilization and easy cleaning
Solid smooth bottom for noise reduction
Continuous bumper to keep dirt and dust from contaminating product
StakPak Plus Container System


Model
Outside Top
Outside Bottom
Inside Top
Inside Bottom
Hgt
Wgt
(lbs)

Price each

Stocked Color
L
W
L
W
L
W
L
W
NSO1215-7
12
15
12
15
9.7
13.3
9.4
13
7.5
2.2
21.80
Gray, Royal Blue, Green
NSO1215-9
12
15
12
15
9.7
13.3
9.4
13
9.5
2.5
22.50
Gray, Royal Blue, Green
NSO2415-5
24
15
24
15
21.7
13.3
21.4
13
5
3
24.60
Gray, Royal Blue, Green
NSO2415-7
24
15
24
15
21.7
13.3
21.4
13
7.5
3.6
31.50
Gray, Royal Blue, Green
NSO2415-9
24
15
24
15
21.7
13.3
21.4
13
9.5
4.4
31.60
Gray, Royal Blue, Green
NSO2415-14
24
15
24
15
21.7
13.3
21.4
13
14.5
5.7
40.10
Gray, Royal Blue, Green
Covers for StakPak Plus
Cover for Different Models

Price each

NSO1215-7-C

10.00
NSO1215-9-C
10.00
NSO2415-5-C
13.20
NSO2415-7-C
13.20
NSO2415-9-C
13.20
NSO2415-14-C
13.20


Back to Home Page
PFI - Last Updated 5/19/15
Copyright Equipment and Supply 2013