Unit Dose Bins
LewisBins small parts storage for pharmaceuticals storage.
Ideal for storing in healthcare environments.
Unit Dose Bins
Designed for storage and retrieval of unit dose drugs. Fits 36" wide shelves, 12" shelf depths, or on Gravity Flow Rails mounted on metal storage systems. Ideal for efficient dispensing and inventory control of strips, orals and injectables. Used in healthcare applications such as hospitals, pharmacies and nursing homes. Molded-in cardholders for convenient identification of products. Manufactured from high-impact polystyrene.
The LEWISBins GFR36-2SST is designed with a 2" flange to securely accommodate 2" and 6" wide Unit Dose Bins, while the GFR36-SST offers a 3" flange to securely hold the 3" and 6" wide Unit Dose Bins.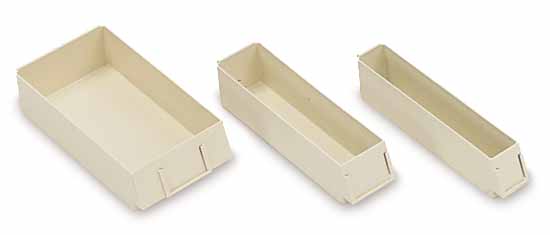 Unit Dose Bins
Model
Outside Length
Outside Width
Inside Length
Inside Width
Length
Hopper Height (in)
Height
Weight (lbs)
Stocked Color
Carton Quantity
Price each
UDB1203-2
11.9
2
10.7
1.8
10.7
2.7
2.8
0.3
Ivory
50
3.35
UDB1203-3
11.9
3
10.7
2.6
10.7
2.7
2.8
0.3
Ivory
30
3.60
UDB1203-6
11.9
6
10.7
5.6
10.7
2.7
2.8
0.5
Ivory
12
5.55


Back to Home Page
Last updated 11/30/16
Copyright Equipment and Supply 2013